Since I was old enough to slice apples, I was side by side with my mom in our kitchen learning her specialty: Apple Pie.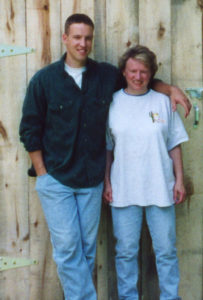 To say she was a master is an understatement. I'm fully aware everyone thinks their mom's apple pie is the best, but I fail to recall a single pie in 20+ years that went awry. It was well known amongst the family, our church and local friends that a slice of Marge Mills' apple pie was the true prize during the holidays. I even wrote a paper in college for a creative writing class about them. Got an A, of course!
Sadly, we lost my mom to a progressive nuero-degenerative disease in 2005 at the age of 57. Since her passing, I've carried on the tradition of making an apple pie around the holidays. Never to be equalled, but always enjoyed, it's a tribute to her and the joy she so effortlessly spread to anyone lucky enough to know her.
This year, as Diane and I prepped for our quiet Thanksgiving in SF, we had a little extra dough and pie filling left over. Diane suggested we turn it into two small 'hand' pies. We popped them in the oven and low and behold, the most perfect little apple pies I'd had tasted in at least 15 years. (The full pie turned out to be my best too!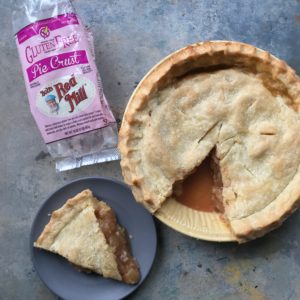 )
The big change this year was the crust. Mom's pie filling recipe remains unchanged, but her crust has been very hard to replicate since going gluten-free in 2010. Thanks to our friends at Bob's Red Mill, and their ever expanding line of GF baking goods, I gave their GF Pie Mix a whirl.
Wow! Simply incredible. I promise you even the most ardent gluten worshiper would never know the difference. So when our annual holiday brunch menu planning came up, I suggested we make a bunch of these little hand pies for our guests.
The results? In a room of foodie and fitness friends, they were unanimously loved. It reminded me of the sort of genuine adoration my mom's pies used to receive.
Doc's Gluten-Free Apple Hand Pie Recipe
Prep time: 1 hour
Cook time: 40 minutes
Serving: 7-8 Hand Pies
Ingredients:
Crust:
-1 Package Bob's Red Mill Gluten Free Pie Crust Mix
-14 Tbsp Kerrygold Unsalted Butter – keep chilled up till use
-6 Tbsp Duck Fat (or preferred fat)
-6-8 Tbsp Ice Water
-4 Tbsp Buttermilk
-About 1 Teaspoon Coarse Sugar
–Non Stick Parchment Paper
Filling:
-6 to 7 medium apples, peeled & sliced (I know everyone uses Granny Smith. I don't. I like Honeycrisps)
-Cinnamon, Nutmeg, Ground Ginger (or other ready to go apple pie spice) to taste*
*Here's the deal, I haven't measured in two decades. It's roughly 1 teaspoon cinnamon, 1/4 teaspoon of nutmeg, and a sprinkle of ginger. If you like the taste of cloves, go for it. I hate them. If you think ginger is gross, don't add it. Just make sure there's enough spice to lightly cover the apples).
-1 Tbsp Organic Maple Syrup (dark) – this is my family's secret ingredient. I might get in trouble for this.
-Juice from half a lemon (about 1 Teaspoon)
-1 Teaspoon Bob's Red Mill Tapioca Starch (or Arrowroot)
Directions:
Start with the crust, while it's chilling you can prep the filling. Preheat the oven to 375F.
1. Put the pie mix, butter and fat into a food processor (mixing blade) and pulse for 1 second, 10 times. Move the mixture to a bowl and sprinkle in 6 Tbsp of ice water and mix by hand with a spatula. As the mixture forms add in the Buttermilk slowly and keep mixing until a dough ball forms. If it's dry and not coming together, slowly add more water 1 Tbsp at a time. Once formed, split into two and roll out 2″ thick discs into plastic wrap and place in the refrigerator for one hour to chill.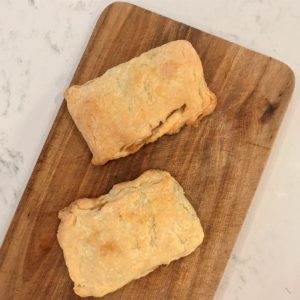 2. Peel, core and slice apples into thin, even slices (a food processor slicing disc works well and saves a lot of time!). Mix spices, arrowroot, maple syrup and lemon juice in a large bowl until even distributed onto the apples.
3. On a counter, place one chilled dough disc onto parchment paper (leaving the plastic wrap on the top of the dough makes it roll easier) and use a rolling pin to roll out to 1/8″ inch thickness. Remove plastic wrap and transfer the parchment to your baking sheet. With the tip of a sharp paring knife cut a 4″ x 10″ strip of dough. Place filling in the middle of one end of the dough strip, mounding liberally (they'll cook down!). Close it up by pulling the other half over the top of the filling and press the dough together lightly, trimming excess away as needed. Repeat. You should get 3-4 rustic hand pies out of one disc. Repeat the process with the second disc. Brush the top of the dough with a little buttermilk and sprinkle coarse sugar on top. Place in the oven at 375 F for 35-40 minutes or until crust is golden brown. Cool on a rack for 10 minutes.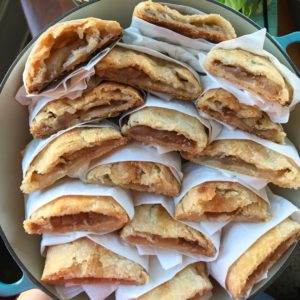 Helpful hints:
1. Keep the dough cold until you're ready to roll. If it gets warm, it will be very hard to form the pies without the dough breaking.
2. Don't stress about getting the dough closed perfectly. They'll bake fine and if a little filling oozes out, it actually helps let you know they're done (and makes a delicious little caramelized piece on the parchment.) They're supposed to be rustic looking. That's part of the charm.
3. When you get extra dough trimmings, set them aside and combine – it should be enough to roll out and make one more.
Serving Suggestion(s):
1. Slice in half, wrap in napkins and stack upright in a serving dish (shown right).
2. Jones Style (mom's maiden name): With a slice of hard, well aged NY Cheddar Cheese.
3. A la mode!
Merry Christmas and Happy New Year,
-Dr. Scott

Stop chasing pain and wasting your time! Snag my Video Rehab Program The Full Body Fix and take $10 off with a subscriber only coupon!
Last modified: December 25, 2017