In virtually every corner of the globe, humans at some point in history realized the best way to eat little birds was to batter and fry them. The chicken has quickly become the ubiquitous little bird of choice worldwide.
Here in the San Francisco Bay Area, we have a plethora of options for the succulent deep fried bird. Even better, many of the best restaurants cater to the health conscious and dietary restriction crowd by offering gluten free options. I'll do my best to highlight the best of the best of the ones we've tried, knowing all too well I've missed a ton of others. (Feel free to comment below with your favorite).
I'm also under no delusion that I am the authority on this matter, especially world wide. May I kindly direct you to the excellent Netflix series with Chef David Chang, Ugly Delicious and specifically episode 6 which dives into the history and social importance of fried chicken, especially in America.
Firefly
I'm not messing around – I'm starting with my favorite!
This Noe Valley neighborhood joint is probably the least well known of the bunch, but for locals it's the perfect spot for absolutely delicious food. We first ventured here on the recommendation from friend and trusted fellow SF foodie, Simone Miller.
What I discovered here can only be described with a story:
As the waiter came to check on us in mid meal, I was flushed and gushing about both the exquisite GF fried chicken and the accompanying GF cornbread (normally the side is a biscuit). My love for this dish must have been more than obvious because he quickly returned with the chef, who not only thanked us for stopping in, but offered me the recipe for their homemade GF cornbread (my attempt is pictured with chili)! Talk about taking care of your customers.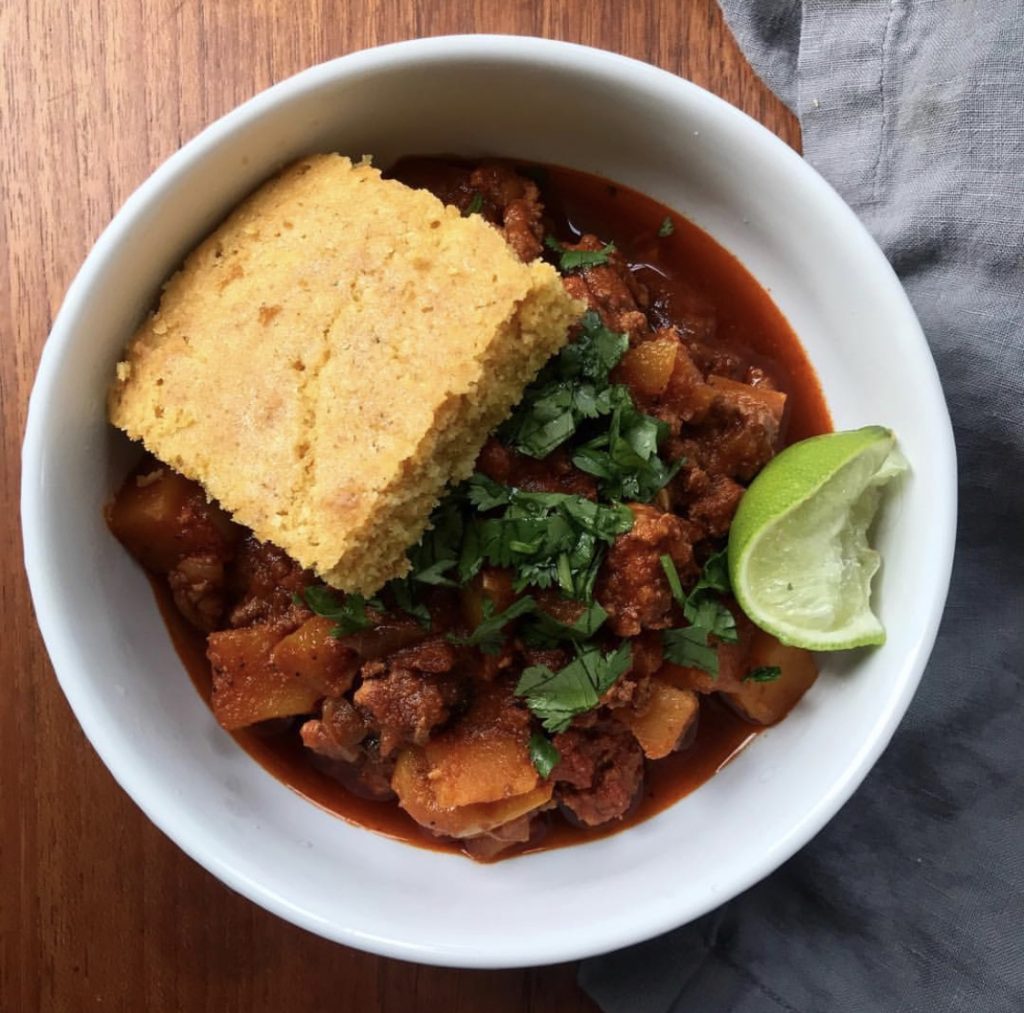 So about twice a year Diane and I head over the hill and marvel at the perfection with which this meal is crafted. Each order comes with a drumstick and large thigh, perfectly crispy with a hint of spice. The sides are a seasonal veggie or succotash, mashed potatoes and of course two slices of cornbread. I've taken out of town visitors here on more than one occasion, and have never been disappointed. As a bonus, they carry my favorite GF beer, Ground Breaker IPA no. 5 and an excellent cider and wine selection.
Pro-tip – make an early reservation as the cornbread is a bit of a local commodity. You can often purchase extra or swap in for the potatoes, but only if they have enough.
Ad Hoc & Addendum
If you're not able to partake in Thomas Keller's acclaimed French Laundry in Yountville, CA about 1 hour north of the city, I have great consolation news for you.
Ad Hoc, and the picture perfect backyard picnic space called Addendum serve up nationally beloved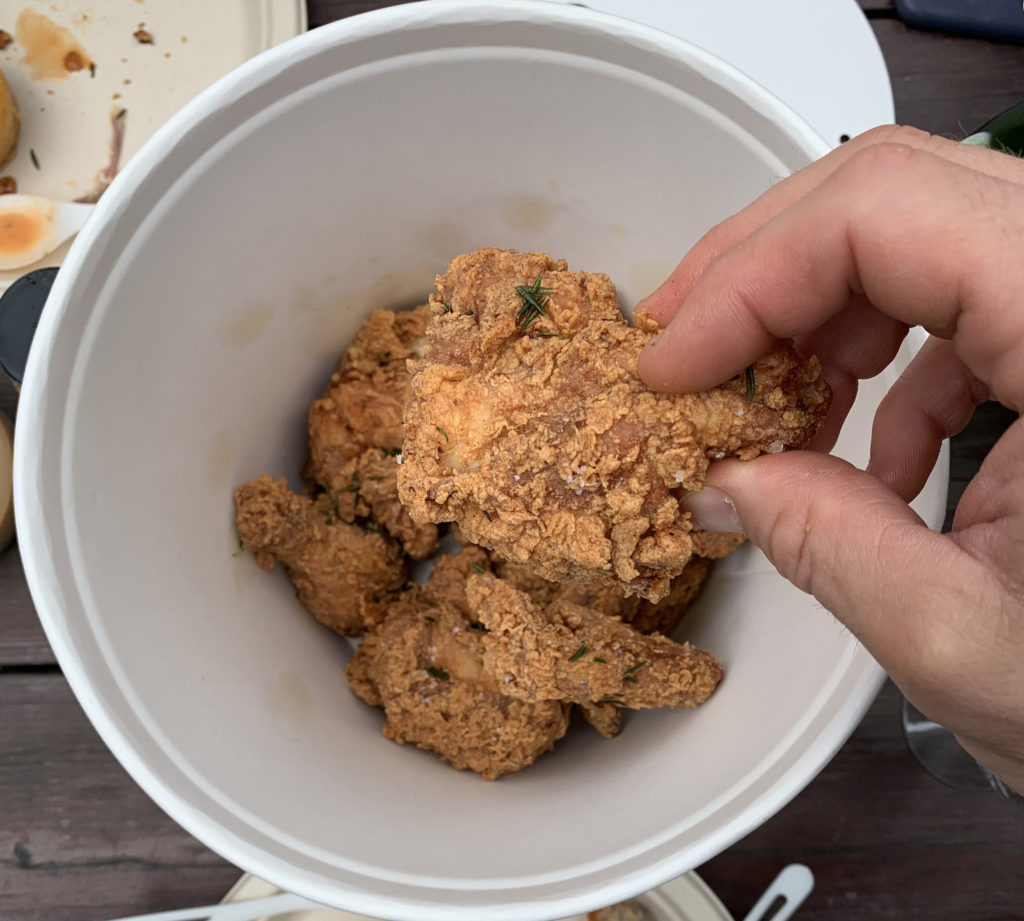 buttermilk fried chicken. If you care for a casual stop, order ahead online for lunch between 11am-2pm (call to confirm Gluten Free orders), stop by and grab a spot in the picnic area. Best of all, they use their cup for cup flour blend for perfect GF fried chicken. And (sensing a theme here) if you ask nicely they'll add in GF cornbread muffins with your order.
Pro-tip: Well behaved dogs are welcome in Addendum, but check hours as it has limited days/times. Call ahead to confirm your GF orders.
State Bird Provisions
A perennial contender for "Best of SF" lists everywhere, the Michelin star rated State Bird Provisions is a hip dim sum style spot known for innovative small plates and a great spot to share with friends.
You might guess by it's inclusion here, their signature dish is indeed a fried bird. Here's where things get just a smidge complicated for my list. It's fried 'State Bird' with provisions, meaning the state bird of California…which is quail. Frankly, I would have been totally fine eating about 3 of these little guys and ignoring the rest of the menu (don't do that). But it is damn fine, garnished with a slice or two of parmesan.
Pro-tip: like my favorite overall SF restaurant, Liholiho Yacht Club, they hold a solid number of seats for early bird walk-ins, as reservations can be hard to come by.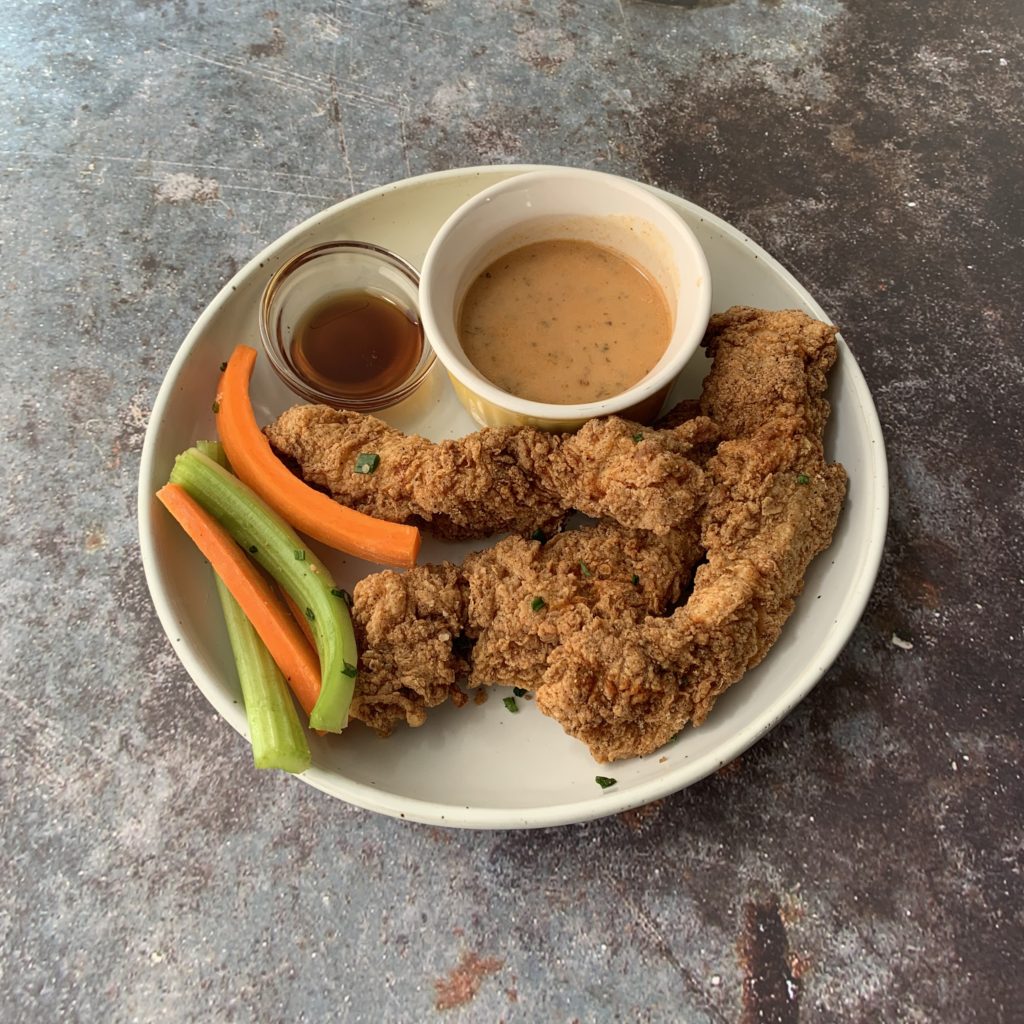 Ok, the category here is "I'm home and hungry and I want fried chicken stat!" Via their website, you can order online for pickup and delivery as well as via the TryCaviar or Grubhub apps. As you'll quickly notice they proudly advertise the Gluten Free option right on the menu.
Certainly not the most fancy of versions, our go-to are the GF chicken strips, which, if like us you grew up in the 80s/90s, hits the nostalgic button right on the nose. They come with a spicy, buffalo-eque dipping sauce, though we often make our own Frank's Red Hot and a clean ranch dressing.
Pro-tip: order twice as much as you want…they go fast and reheat wonderfully in a toaster oven. Add Jacobsen's Bee Local Hot Honey!
Get out of the city and head south down the 1 to Santa Cruz, the gluten free chicken and waffles at Primal Santa Cruz are worth the drive. While you're there, head to the coast and check out legendary surf break called the Streamer Lane at the Lighthouse. Locals only on the waves, but plenty of good viewing from the cliffs above.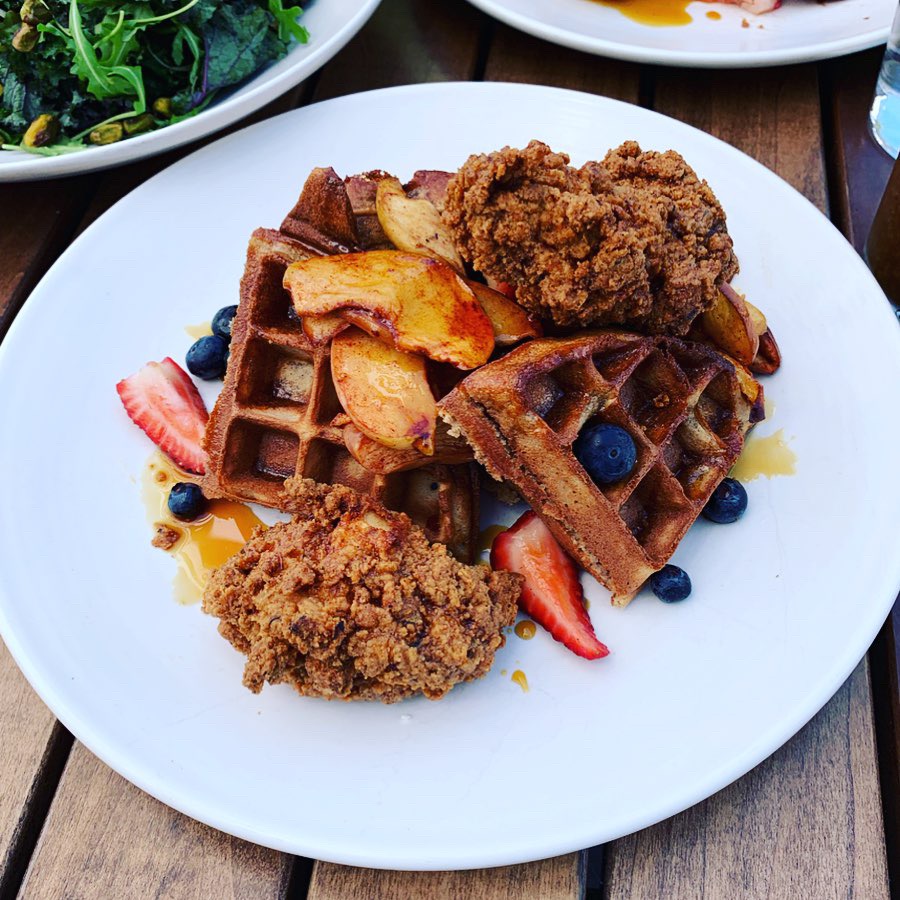 Back to the fried chicken…Primal is the sort of restaurant that feels like they read our minds during menu construction. Blackened Fish Tacos with Siete Cassava Tortillas? Check. Grass Fed Skirt Steak, chimichurri & turnip mash? Check.
But don't fool yourself, the reason to drive an hour and a half is without a doubt the GF Chicken and Waffles. A brunchy, fruity take on the classic, there's plenty of cinnamon and sweetness to go around. The crust and crunch on the chicken made me wish the waffle-chicken ratio was in reverse…but the folks here are nice enough, they'd probably do it for you if you just ask. Great spot.
Pro-tip: The patio is dog friendly. Ask for extra chicken. The restaurant is currently (summer 2019) under construction – so double check they are re-opened!
-Dr. Scott

Don't miss more great deals, videos, and posts right in your inbox! Become a Subscriber and snag my complete Video Rehab Program The Full Body Fix and take $10 off with a subscriber only coupon and grab my Free Warm Up Manual while you're at it!
Last modified: June 17, 2019