Full Body Fix Radio is here!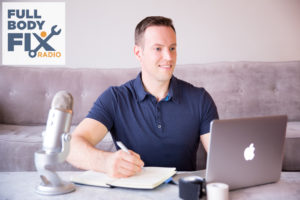 I've been editing the award winning Balanced Bites Podcast for the past 4 years and now I've decided to step in front of the mic!
Have you ever found yourself wondering if that piece of bro-science you heard floating around the gym or workplace is true? Ever wanted to have access to movement professionals like chiropractors, physical therapist and personal trainers to get the inside scoop on what really works for rehab, pain recovery, and fitness?
Then this is the show for you! I'm bringing on experts from all across the country to break down movement myths and rehabilitation dogma. We cut to the chase and get you the truth in this all new audio resource. Best of all, you can ask a question and have it answered on the air – just submit the question to [email protected].
Find your fix, with Full Body Fix Radio and click here to see more, visit the iTunes podcast store to subscribe or listen right here:
Proudly Sponsored by:
PureWod – my friend and serial entrepreneur, Dr. Anthony Gustin has a line of absolutely game changing supplements. Check out the whole line and shop in confidence knowing there's nothing cleaner on the market.
Siete Family Foods – my favorite grain free tortillas and chips with no extra junk, filler or chemicals from an awesome family of entrepreneurs in Austin, Tx. Do you miss being able to pick up a taco and crush it without destroying your stomach? Suffer no longer! Using almond flour, cassava and chia flour, you'll never miss taco Tuesdays again.
---
Check out the Full Body Fix Radio Archives for all of the episode and show notes.