"Ahhhh…I love this bed!"
Us. Every night. As soon as we lay down.
On average, humans spend a third of their lives sleeping. 1 in 4 Americans have a sleep disorder. The health effects of poor sleep are so pervasive; listing them here would be overwhelming. It would only be logical to invest in a quality mattress. And as a chiropractor, I'm asked all of the time about what type and brand of mattress I recommend.
When we moved to San Francisco, we were determined to get a new mattress. The one we left behind in NJ was worn out, leaving us tossing and turning every night and achy every morning. We learned about a company called Intellibed through fellow paleosphere friend Juli Bauer of PaleOMG. What specifically caught my eye was the claim that their patented gel matrix top was "soft & firm".
How does that work?
Funny you should ask, because when people ask for my recommendations, this is the exact phrase I use.
Sleeping Positions & Support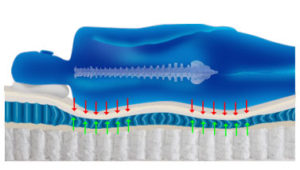 This is because when we are lying on our back or side lying to sleep (stomach sleeping is terrible for your spine, and not an option), we want enough support that our spine stays in relative neutral aligned position. Too soft, and you start getting too much sway in the spine. Too firm, and you won't be comfortable enough or have enough space for your hips and shoulders to lie flat.
But when you head to the mattress store, those are your options. Soft or Firm. Why not both? Because traditional mattresses give you a choice of either natural down, synthetic or memory foam toppers. The first two compress and wear out quickly over time. And memory foam can be full of harmful vital organic gasses (VOCs) and other potentially dangerous chemicals.
The other notable aspect of memory foam is that I hate it. I tend to run a little on the warm side as it is, and anyone who has slept on memory foam knows it can be a real sweat-trap. No such problem with this ingenious gel matrix top from Intellibed. I stay nice and cool throughout the night.
Toxic Talk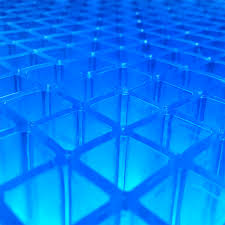 Lastly, was a desire to move toward a less toxic mattress. There are more options these days for organic fiber mattresses and other materials with less off-gassing of chemicals and VOCs. As such, Intellibed mattresses are made with non-off-gassing materials. There is no foam or other toxic cushioning materials. Just hospital grade gel matrix on top and cushioned springs underneath.
We opted for a King Size Sapphire model which adds independently wrapped coils to yield "advanced" motion control. Let's be honest, sleeping in a bed with another human can be challenging. Why not add a little extra insurance that you won't feel them moving?
Final Thoughts
I can honestly say this is the best mattress we've ever had. It's not close. There's nothing quite like the feeling of loving going to bed. Waking up fresh and ready to rock. Yes, these high quality mattresses are more expensive than traditional ones. They also have an industry leading 30 year warranty. And think about how much time you sleep. There's hardly anything else you use as much as a mattress. Why not make it a great sleep? And the long-term health benefits of great sleep surely outweigh the cost. Just like investing in healthy, high quality food!
Special Offer
Thanks to our friends at Intellibed, we've got a great coupon code to help defer the cost a bit. Use the code "DrScottMills77" for $500 worth of bedding accessories with your Intellibed order! They're also running some pretty great deals at the moment. Learn more on their website or talk to one of their professionals directly at 888-435-2339.
Sleep well,
-Scott & Diane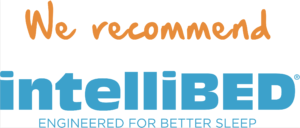 Disclaimer – While this product was provided to us for review, we were under no obligation to give positive feedback, nor financially compensated to do so. In fact, we literally slept on it for 2 years before reviewing it as proof of our commitment to our readers. If you purchase a product through links on our sites, we may receive a small commission percentage as an advertising affiliate. These reimbursements help run our otherwise free sites.
Last modified: December 2, 2017