Moscow Mules are all the rage these days. It seems few can resist the classic combo of vodka, ginger beer and lime juice in a shiny copper mug. Over the last few years during the holiday seasons I've been toying with different mule combinations. A Harvest version with apple cider and cinnamon is pretty solid, but not quite there yet.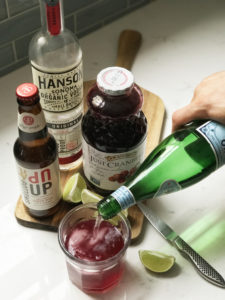 But for this year's Holiday brunch, I tweaked a version of a Holiday Mule I found online to suit my lightweight tastes and found it to hit the exact note I was looking for.
Before I distill the recipe, a note on Vodkas. One thing I've noticed is that the organic, non-grain based versions leave me feeling significantly less 'wrecked' the next day. As such, I'm a big fan of either Schramm Organic Potato or Hanson Organic of Sonoma (pictured) which is distilled from sustainably raised, local grapes.
One other important point: if you're looking to keep these Gluten-Free (as I am), be careful when buying ginger 'beer'. There are products that are actually beer (and thus not GF). Make sure to find a clean ginger soda.
Here's the recipe:
Clear Highball Glass with Ice Cubes
2 oz Vodka
4 oz Ginger Beer (soda)
2 oz Cranberry Juice
Splash of Sparkling Water
Squeeze of 1/4 Lime
That's it! A nice red glass of holiday cheers!
Dr. Mills
Last modified: December 23, 2017